World-Class Online End-of-Life Doula Training
24/7 Access to Doulagivers Invaluable End-of-Life Doula Trainings
Programs for Both Professionals and Family Caregivers
SPECIAL OFFERS: 

ENROLLMENT IS CURRENTLY OPEN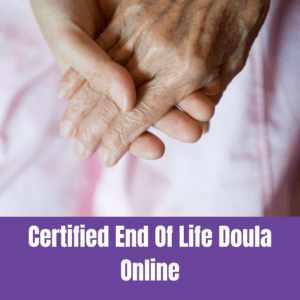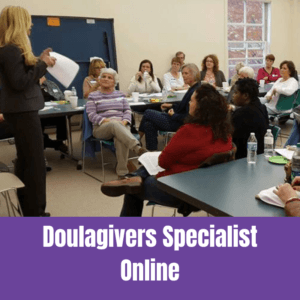 Become a Certified End of Life Doula Today!
Begin anytime from anywhere with our
Self-Paced Training with Live Support available Monday-Saturday.
Learn the Skill, Change The World!
UPCOMING FREE WEBINARS
Thursday, April 4th, 2019 – 8:00 PM ET
FREE Doulagivers 90 Minute Level 1 End of Life Doula Live Webinar Training
Thursday, April 11th, 2019 – 7:00 PM ET
FREE Peace of Mind Planner for End of Life 60 Minute Webinar Training
UPCOMING LIVE EVENTS
Feminine Festival in Bangkok, Thailand on March 15th-16th
THE WISDOM OF THOSE AT THE END OF LIFE with Suzanne B. O'Brien, RN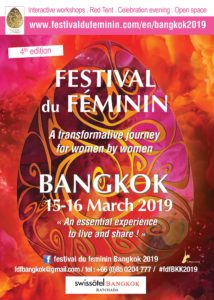 The Doulagivers Life Class: A Journey of Health, Healing and Happiness for Women is a workshop that was created from the years of experience working with wonderful women at the end of life. Suzanne B. O'Brien, RN will share the incredible wisdom of these women who have given great insight into what life's journey is all about, what they learned over the course of their life, and what they want other women to know about living so that they may enjoy the true beauty of a fulfilled life before it is too late.
Suzanne will explain what the meaning of life really is based on those who are leaving it. By understanding unconditional love and one interconnected consciousness, you can dramatically shift the way you are living day to day and be part of a much greater global community. This has nothing to do with religion but is a general spiritual energy and one that we are all connected to, how being of service to others is the greatest connection we can experience. Reminding us that our thoughts directly create our reality, this pause is more than welcome!
An End of Life Doula Makes a Difference for Families Facing the End-of-Life Process
What is an End-of-Life Doula?
An End of Life Doula is a non-medical person trained to care for someone holistically (physically, emotionally, and spiritually) at the end of life. End of Life Doulas are also known around the world as: end of life coaches, soul midwives, transition guides, death coaches, death doulas, doula to the dying, end of life doulas, death midwives, thanadoula, and end of life guides.
Due to the enormous number of the elder population, there is an overwhelming need for these services and support. Finding the right teacher and training program is one of the most important decisions you will make.
International Doulagivers Institute, founded by Suzanne O'Brien RN, providing the highest level of education and certification for the End of Life Doula. Our Doulagiver training is akin to the birth doula model: both help people transition to and from this world. Facilitating this process requires education, training and compassion. Our certified End of Life Doulas are a global community working as an adjunct to Hospice and providing care and guidance for patients and families at the end of life.
And you can find everything you need at Doulagivers, an internationally recognized leader in end of life training programs and care.
Ask a Death Doula Podcast
Broadcasts Every Thursday at 2 PM EST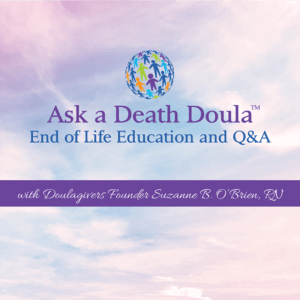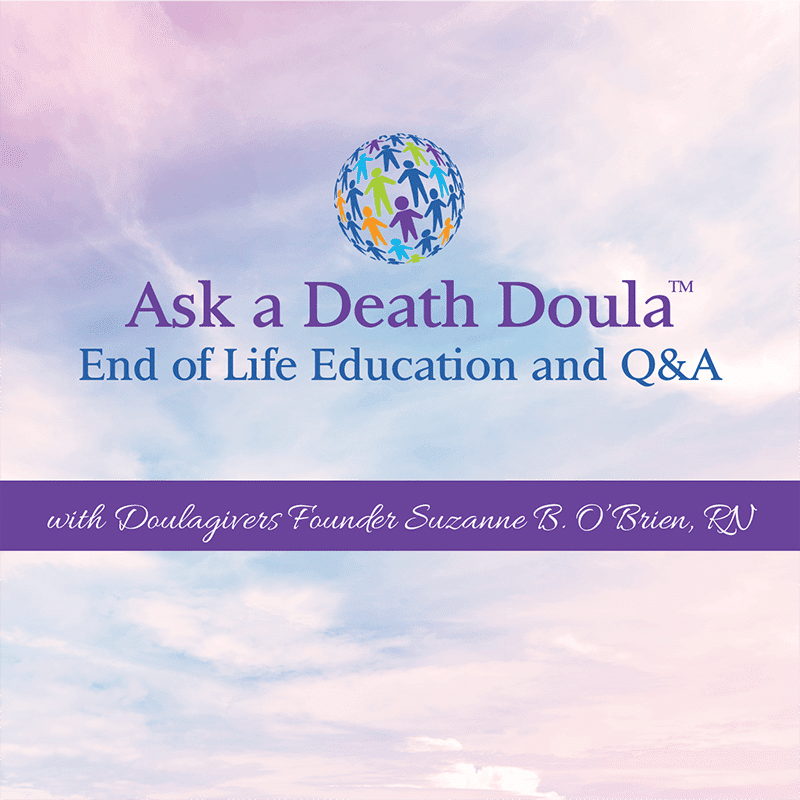 DID YOU KNOW?
FACT #1
Roughly 20 percent of Baby Boomers do not have children of their own.
Who will care for these elders?
FACT #2
9/10 people want to be kept at home if they become terminally ill.
Yet over half are dying in the hospital or long-term care facility.
FACT #3
The #1 concern of the dying is to not be a burden to their loved ones.
How are families addressing this concern?
FACT #4
Over 80 percent of people prefer to stay in their own homes as they age.
Do they have access to resources to maintain independence?
Who will meet the demand for holistic services and support for elders and terminally ill?
DOULAGIVERS END OF LIFE DOULAS