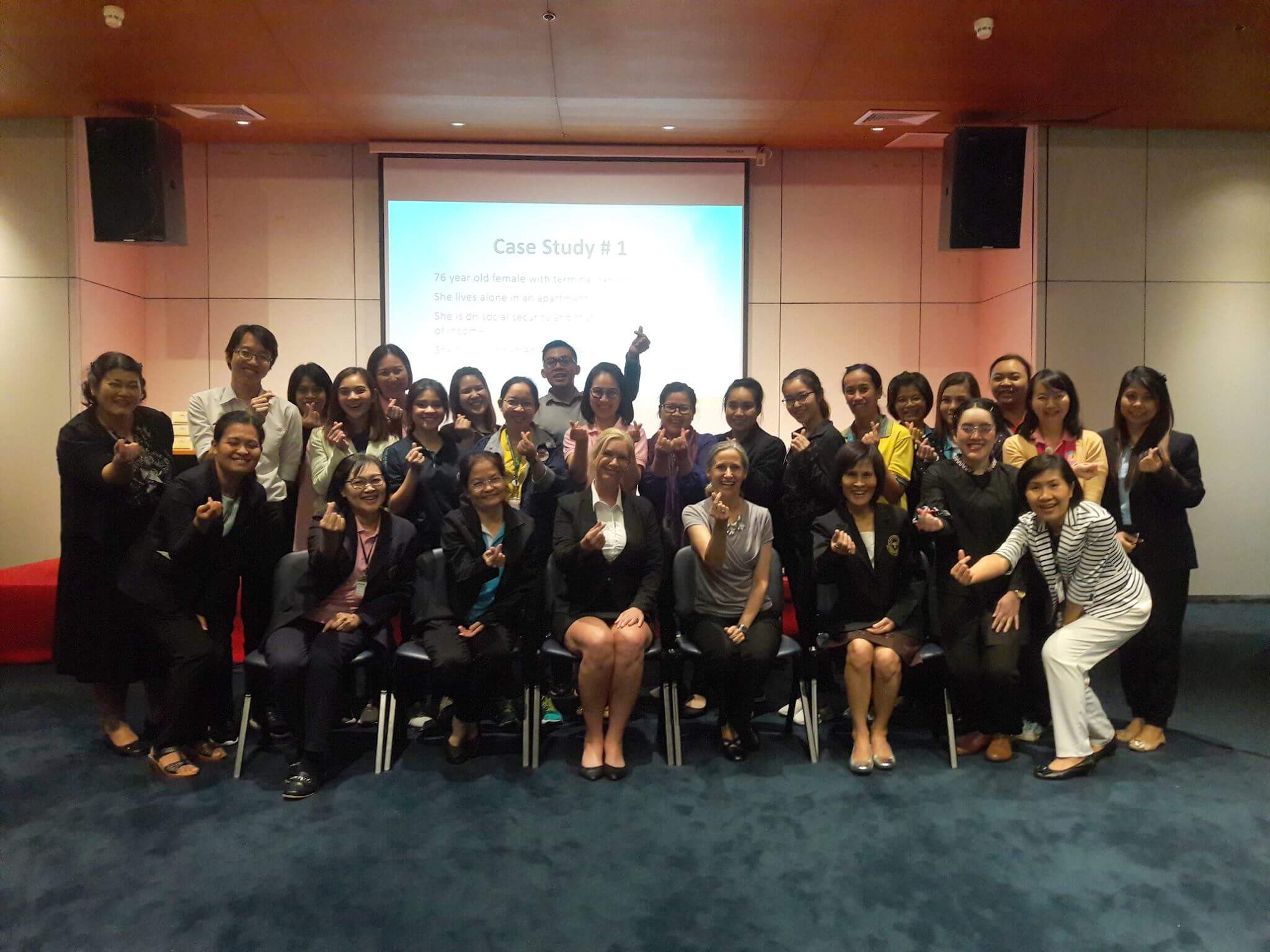 END-OF-LIFE DOULA CERTIFICATION
Doulagivers® Certified End of Life Doulas are thoroughly trained in all three phases of End of Life Care. Before being awarded certification, students must obtain a minimum of 30 hours of bedside experience, successfully complete all learning modules, and pass the Doulagivers final exam.
It is required that the following items are compiled with to obtain certification. 
Complete Doulagivers® End-of-Life Training Levels I, II, & III
Online Training Series or Live workshops.
Pass Final Exam – Score of 85% or higher
Complete 30 hours of documented support provided to patients and their loved ones.
Provide end-of-life doula support to several clients.
Must attend two(2) vigils
Must be present for two (2) deaths
Minimum of 6 patients (can count up to 5 hrs of service per patient)

Provide documentation signed off by a professional directly associated with the patients care. (application package contains form)
In order to be certified applicants must obtain verification of service hours performed in direct support of an individual during the end of life processes.  This can be done through volunteering with your local hospital or hospice organization.  The hands on practical application of teachings will further develop your ability to serve individuals at end of life as you apply the knowledge you have obtained during the workshops.
Upon completion of the requirements:   1) final exam, 2) 30 hours of bedside hours,  and 3) an application for certification may be submitted.  ALL of the 3 items MUST be handed in at the same time via email to doulagivers@gmail.com. Items will not be excepted separately.  Results and certificate of completion will then be awarded in 10-14 business days.
Regulations
Is there a governing body that overseas certification?
No
There is no governing or regulatory entity for End-of-Life Doula training and certification.
Certification
Why does Doulagivers offer Certification?
Verification of Competency
Doulagivers is certifying that individuals have acquired the body of knowledge as well as practical skill necessary to assist individuals and families throughout all phases of end of life.
Re-certification
Do you have to Re-certify?
Yes
Every three years it is required to re-certify
RULES OF CONDUCT
Integrity

– An End-of-Life Doula should maintain the highest standards of professional integrity.

Propriety

– The community of End-of-Life Doulas is international and as such EOL Doulas must represent themselves with high standards of personal conduct and professionalism; addressing colleagues with respect, courtesy, and good faith regardless of end-of-life affiliation.

Competence:

An End-of-Life Doula will accurately represent themselves as competent within the boundaries of their training, knowledge, experience, and credentials.

Discrimination:

EOL Doulas will not discriminate, condone, or turn a blind eye to any discrimination based on ethnicity, religion, sexual orientation, gender identity, age, etc. associated with the care of the dying person.

Dishonesty, fraud, and Deception:

EOL Doulas will not take part in, condone, or turn a blind eye to dishonesty, fraud, or deception of the patient, family, or caregivers they are working with.

Inappropriate relationships:

An EOL Doula will not engage in sexual relations, contact, verbal exchanges, or innuendo of any kind under any circumstances with the patient, family member, friend, or professional caregiver during the time that the EOL Doula is serving a patient and their family.
ETHICAL RESPONSIBILITY TO PATIENT
Availability of Service:

If unable to provide services to families needing assistance referral to another End-of-Life Doula or Doulagivers ® is necessary.  No one in need should be turned away.

Autonomy:

An EOL Doula should make every effort to afford patients the ability to maintain autonomy and control whenever possible, making their own choices.

Confidentiality:

An End-of-Life Doula will maintain respect for the patient and family by maintaining privacy and confidentially regarding personal health or related information about the dying person.  With permission information regarding the case may be shared in peer meetings with all Personal Identifiable Information being omitted.

Dignity:

EOL Doulas will make every effort to help the dying person maintain their sense of dignity in the face of decline.

Fees:

An EOL Doula must set fees that are

reasonable and commensurate with the services offered.  They should also be in accordance with prevailing rates for EOL Doula services in the geographical area.  Furthermore fees will be set within the ability of the person or family to pay and must be agreed to prior to beginning of services.  Consider reduced rates if possible or make appropriate referral as necessary to ensure no one is turned away from end-of-life services.
As a certified End-of-Life Doula you promise to practice your profession with integrity, honesty, truthfulness, and adherence to the absolute obligation to safely care for your patient and their loved ones. You promise to act according to the highest goals and visions of Doulagivers End of Life Doulas. This includes, but is not limited, to no prejudice or judgment, respecting others opinions, always working to the best of your ability, always meeting your families and patient "where they are" in their process. The EOL Doula will ask for help from the central office on any situations that she/he is not sure how to handle. The EOLD always has the patient and family's best interest first in all situations.
Services Rendered: An End-of-Life (EOL) Doula is a non-medical professional that provides physical, emotional, and spiritual support to the patient, family, loved ones, friends, and their support networks.  An EOL Doula will assist the family with understanding the natural process while providing suggestions for comfort and support.  This holistic support for the dying and their loved ones will occur before, during, and after death.
Every patient and family served is unique and services will be tailored to their individual needs.
The goal of an EOL Doula is to collaborate with hospice, palliative team, and other healthcare professionals to create a dynamic support system ensuring the highest quality of life for a patients end-of-life care.  Referrals to appropriate professional and community resources will be made as needed for services that are outside of the EOL Doula scope of practice.
An EOL Doula will provide education regarding the end-of-life processes and options available so that patients and families can make informed decisions about their care.  An EOL doula is not a medical provider and as such any information or advice given should be viewed in that light.
Limits to Practice:  Doulagivers ® standards and certification apply only to the physical, emotional, spiritual, and educational support at end-of-life.  EOL Doulas do not perform any medical tasks such as administering medication, taking blood pressure or temperature, providing wound care, empty or change catheter, or change a dying persons diaper regardless of their background or licensure outside of the EOL Doula training and scope of practice.  Those EOL Doulas with additional training (i.e. Nurses, social worker, CNAs, massage therapist, herbalist etc.) serving the dying who chose to work outside of the scope of practice as an EOL Doula must identify themselves with such credentials allowing transparency and avoiding confusion regarding the role of a EOL Doula.  The additional modalities outside of the scope of an EOL Doula must be identified as an additional service.
Advocacy:  An EOL Doula supports their client by advocating for their autonomy in choices and by encouraging communication with family, caregivers, and professionals working in direct care of the patient.
Professional Conduct:  An EOL Doula working under this scope of practice agrees to the following:
To demonstrate integrity and ethical standards in their professional conduct.

To respond to clients and potential clients within the courteous and professional timeframe of no more than 48 hours. If the EOL Doula is unavailable for some period of time due to vacation or leave from doula work they will communicate that to those that contact them, to avoid the feeling of non-responsiveness from the doula community.

To not impose their own values or beliefs on patient or clients served.

That no confidential information received in a professional capacity from their client will be divulged. This includes all cases discussed in peer review meetings – Age and Diagnosis can be discussed but no Personal Identifier Information (PII).

Make every effort to honor agreements and contracts for professional services and providing back up doula care should they be unable to meet commitments.

Introduce patient and care team to back up EOL Doula.

Follow up to ensure patient needs are being met.

At all times engage with colleagues in an ethical, professional, and respectful manner.

Promote ethical conduct within the profession.